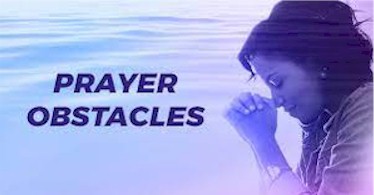 Prayer Obstacles and Solutions
Here are some obstacles to prayer and how to overcome them.
THE DEVIL
If anyone knows that God answers prayer it is Satan. Satan knows that answered prayer will thwart his evil plans. So he will use anything and everything to get us to not pray.
Solution
Know that anything that is interfering with you praying has as its root Satan. Make the choice to refuse to bow to Satan-PRAY whenever God puts it on your heart to pray.
LACK OF FAITH
If we doubt that God hears us, or that God will not answer our prayers, we will not pray.
Solution
Hearing and reading the Word of God builds faith. Reading testimonials of God answering prayer in powerful ways builds faith. Praying and seeing God answer your prayers builds faith.
SIN
If you were walking in willful, blatant, ongoing sin, you will be convinced that God cannot hear your prayers.
Solution
Repent get right with God.
TOO BUSY
The lie that you are too busy to pray.
Solution
You're not too busy to pray, you just have your priorities wrong. Get them right. Plus everyone has 10 to 15 minutes a day to pray regardless of how busy they might be.
DON'T KNOW HOW/WHAT TO PRAY
There are no formulas. How can any of else say we don't know what to pray, look around the world.
Solution
There is access to all kinds of prayer guides. Pray about what burdens you. Just talk to God.
DON'T SEE ANSWERS TO PRAYER
More times than not we do not see specific answers to our prayers. So we say why bother praying.
Answer
There may be many reasons why we do not see answered prayer. That is another topic. We need to make a decision that we will pray rather we see answers or not. The results are in God's hands. Our responsibility is to pray.
DON'T FEEL LIKE PRAYING
Many times we do not feel like praying. It's just not in our heart to pray.
Solution
As Christians we do not live by feelings we live according to the Word of God. God calls us to pray. So we make the conscious choice to pray regardless of how we feel.
BOTTOM LINE
Make the decision to pray whenever God puts it on your heart to pray. Ignore all the excuses rationalizations, justifications why not to pray. Ask the Holy Spirit to empower you to BE OBEDIENT!