Apostasy-Part Seven, Summary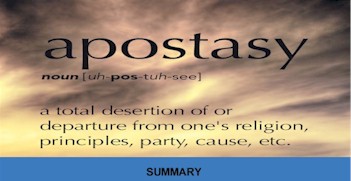 In Apostasy-Part One we looked at the various definitions of the word Apostasy. It is clear that the word means to fall away from something a person was a part of at one time.
In Apostasy-Part Two we took a look at all the biblical warnings regarding apostasy.
In Apostasy-Part Three we took a look at the 'If/Conditional' Bible passages.
In Apostasy-Part Four we took a look at the importance of Jesus not only being Savior, but being Lord.
In Apostasy-Part Five we looked at an example of apostasy.
In Apostasy-Part Six we took a look at the extremes in regard to eternal security and lose your salvation.
In this summary we are going to list the eternal security Bible verses and the if/conditional Bible verses. Is the Bible contradicting itself in regard to the potential of Christians committing the act of apostasy or do these Bible passages suggest that there is the potential of Christians falling away from Christ, but those who true followers of Christ, taking heed to the warnings of potential apostasy, have eternal security in regard to their salvation? I would say that a sold-out follower of Christ, that continuously walks in repentance, will never become deceived to the point of apostasy and thus has the assurance that their salvation is eternally secure.
Eternal Security of Salvation
John 10:28-29
1 John 5:10-13
Romans 8:31-39
Ephesians 1:13-14
Hebrews 6:18-20
1 Peter 1:5
Psalms 97:10
John 10:28-29
Hebrews 7:25
Ephesians 4:30
John 6:37-39
Romans 11:29
Romans 8:38-39
Jude 1:24
2 Corinthians 1:22
Philippians 1:6
Ephesians 2:8-10
Romans 11:6
Hebrews 6:40
1 Corinthians 1:18
Romans 8:28-31
1 Peter 1:4-5
John 6:39
Jude 1:24-25
1 Thessalonians 5:23-24
2 Corinthians 5:5
2 Timothy 4:18
Romans 9:16
1 Peter 1:1-25
1 Corinthians 1:8-9
John 14:15-16
Ephesians 1:11
Ephesians 1:1-23

If/Conditional Bible Passages
1 Timothy 4:1-2
Hebrews 3:12
Luke 8:13
Hebrews 6:4-6
2 Peter 2:20-22
Hebrews 10:26-29
John 15:6
Matthew 24:10-13
2 Peter 3:17
Galatians 5:4
1 Timothy 1:19-20
1 Corinthians 6:9-11

Apostasy Warnings
2 Thessalonians 2:3
1 Timothy 4:1-2
Luke 8:13
2 Peter 2:20-22
2 Timothy 4:3-4
Matthew 24:9-10
Hebrews 10:26

Apostasy-Part One, Definition
Apostasy-Part Two, Biblical Warnings
Apostasy-Part Three, Conditional Verses
Apostasy-Part Four, Lordship of Christ
Apostasy-Part Five, An Example
Apostasy-Part Six, The Extremes
Apostasy-Part Seven, Summary
Are You Truly Born Again? Seven Indicators of True Salvation