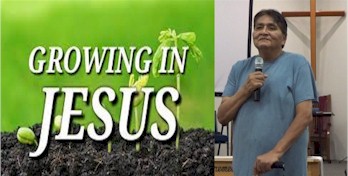 When Rich and Carmi knew they were going to be doing ministry at the LCO Reservation in Couderay, WI, Ed Sam immediately came to their mind. Ed is a Native American that was in their sober housing program for over 13 years. Sam is one of the men who has remained sober the entire time. But they were very aware that Ed would not be considered as someone who is SOLD OUT for Jesus, even though he is not ashamed of what Christ has done in his life. He just is more to himself type of person.
Rich asked Ed if he would like to minister with us and he knew Ed would have several excuses, but he felt led to push Ed to strongly consider coming. That he would be good for the ministry and it would be good for Ed. With some hesitation Ed said "yes". (Then the devil did all he could to get ED to not get on the train to St Paul, MN where he would be picked up.)

It is so clear, beyond a doubt, that it was the Lord's will for Ed to be ministering with them. The change in less than a week is amazing! The Ed they know that is deep inside of him has come out. He loves and cares for people. He is able to connect with people. He has a servant heart. Because of some baggage in his life, because of some character and personality flaws he has let the devil stop him from being used for the Kingdom. All that has changed. He is truly growing in Christ and burdened to help others grow in Christ. He is becoming a great ambassador for Christ.
Rich and Carmi have said if all this missions trip is about is to help Ed grow in Christ so he can touch people they cannot touch then it is all worth it. Ed is like a son to them, even if he is close to their age. Over the years they have done many things with Ed and it is as if he has matured in the Lord.
To see Ed standing up giving his testimony touched their heart tremendously. He did a fantastic job. Rich actually thought Ed would ultimately back at. Rich was certainly wrong.
Ed is looking for various ways to be able to have contact with people. Praise God.
Ed like all of us has some issues that rise up. But to see him deal with those issues in such a more mature way is such a blessing-he is truly GROWING IN CHRIST.
PS There certainly were many challenges with Ed at various times in the past in our sober housing program. Talk about it all being worth it. May we be able to touch some Ed's here at LCO. We have some appointments lined up. (We have at least five people that have requested personal one-on-one spiritual counseling, healing, and deliverance. One is someone who grew up in the occult. I am also being asked to teach more from my Moving Beyond the Past Course.)
Rich