RightNow Media-free videos
Creating Futures is able to provide over 20,000 Christian videos for FREE through rightnow MEDIA@WORK.
Bible Study Topics:
Rightnow Media also offers videos for:
Some of the Bible Study Teachers:
Henry Cloud
John Maxwell
John Townsend
Phil Vischer
Les & Leslie Parrot
Kirk Cameron
Ray Comfort
Chip Ingram
Dennis Rainey
Tim Tebow
Mark Batterson
Tony Evans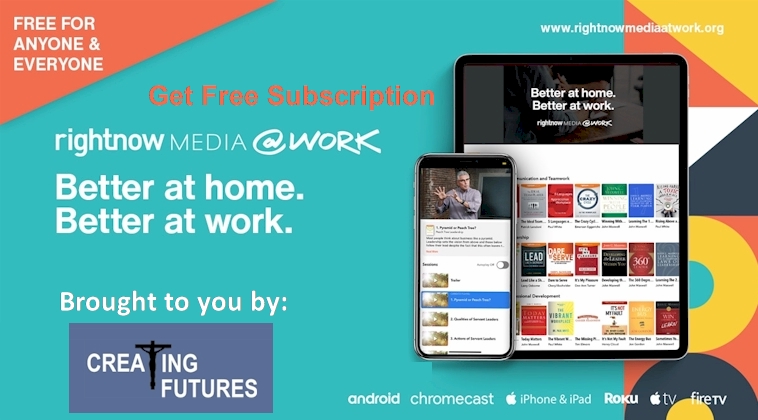 To obtain your free subscription is easy:
1. Send an email to rightnow@creatingfutures.org
2. In your email enter your name and the email address that you want associated with your free subscription. That's it.
3. Within 24 hours you will receive your free subscription.
4. You can watch online videos via Internet, iphone, ipad, android, chromecast, Roku, AppleTV, FireTV
5. Be assured we do not share your email with anyone.
Rightnow Media Testimonials