Interview with Carmi Dover-LCO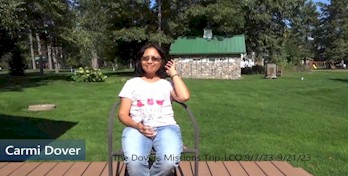 Carmi and I share about our experiences doing a Short Terms Mission Trip at the LCO Reservation in Couderay, WI.

Our original goals were to provide hope and help prepare the people for a new pastor. But the number one objective was to get very involved within the reservation, interacting with the Traditional Native people and getting into some of the dark places within the tribe. More evangelism than discipleship. But the Lord had completely different plans.
Almost all of our time was spent providing spiritual counseling, mainly inner healing ministry, discipleship training. More than anything else was just loving on people, bringing encouragement. There was tremendous spiritual hunger and the Lord equipped us to meet the need.
We were shocked how well received we were by the people, and by how much love was shown to us.
By the time we left it was clear that we can be confident that the people we ministered to will be growing spiritually and ministering to others. In some ways we feel they will be preparing the soil for our next visit if God gives us the release to go again to LCO.