Sugar Coated Version Bible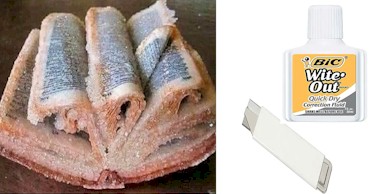 Sugar Coated Version (SCV) Bible
The SCV Bible is perfect to follow along with Sugar Coated Preaching. One of the major benefits that comes from owning a SCV Bible is that it is not only sugar coated but comes with White Out and a Box Cutter so the reader can remove any Bible passages that are offensive to them.
The SCV Bible is great for those who desire to have their Bible adapt to their lifestyle instead of adapting their lifestyle to the Word of God, if you do not like a passage of Scripture just use your including White Out or Box Cutter.
We recommend that you only attend churches where the pastor is preaching out of the Sugar Coated Version Bible
3 For the time is coming when people will not endure sound teaching, but having itching ears they will accumulate for themselves teachers to suit their own passions, 4 and will turn away from listening to the truth and wander off into myths.

2 Timothy 4:3-4
.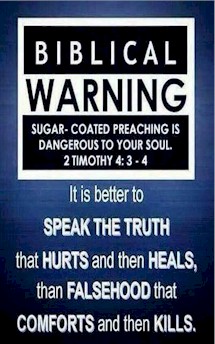 Joking Aside
We are using satire to make a point. 2 Timothy 4:3-4 makes it clear that there will be those who do not want sound teaching. Instead they want to hear preaching that makes them comfortable to continue living a lifestyle of sin. What they are looking for is a greasy grace, sloppy agape, feel good preaching.
Needless to say under such preaching sin will abound, and instead of individuals being transformed, they will go deeper and deeper into darkness. The end result is these individuals will experience eternal destruction.
A true follower of Jesus Christ is going to seek the unadulterated Word of God that brings conviction and calls a person to repentance. They know the Word of God will help them renew the way they think and live, they will be transformed and have a desire to live according to the will of God. Because of them submitting their life to Jesus Christ, they will experience eternity in heaven.
1 Therefore I urge you, brethren, by the mercies of God, to present your bodies a living and holy sacrifice, acceptable to God, which is your [b]spiritual service of worship. 2 And do not be conformed to this world, but be transformed by the renewing of your mind, so that you may prove what the will of God is, that which is good and acceptable and perfect.

Romans 12: 1-2
Which person are you?
Do you by the power of the Holy Spirit adapt your lifestyle to the Word of God or do you adapt the Bible to match your lifestyle? Are you truly born again? Not sure? Check out Seven Indicators of True Salvation.