No Weapon-Spiritual Warfare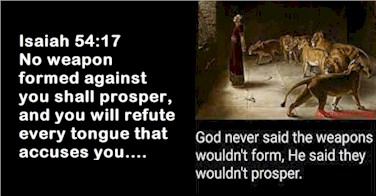 No Weapon Formed Against Me Will Prosper
The meme says "God never said the weapons wouldn't form, He said they wouldn't prosper." It is based off of Isaiah 54:17. Based upon the verse the weapons will not prosper, but the weapons do prosper at times. Hear me out and learn how to not be affected by the flaming darts of Satan.
"No weapon formed against you shall prosper, and you will refute every tongue that accuses you. This is the heritage of the servants of the LORD, and their vindication is from Me," declares the LORD.

Isaiah 54:17
In addition to all this, take up the shield of faith, with which you can extinguish all the flaming arrows of the evil one.

Ephesians 6:16
Therefore, since we have so great a cloud of witnesses surrounding us, let us also lay aside every encumbrance and the sin which so easily entangles us, and let us run with endurance the race that is set before us,

Hebrews 12:1
Weapons Fashioned Against Us
Hebrews 12:1 makes it clear that a follower of Christ can get entangled with sin. Satan watches our behavior and actions and thus can figure out what weapons (darts) can work against us. He knows what sin easily tempts us and entangles us. So he 'fashions' temptation specific to us. He then fires the temptation (bait) at us and sees if we take the bait. If we take the bait his weapon prospered. So yes, at times Satan's weapons prosper.

Our Responsibility is to lay aside every encumbrance and sin that easily entangles us
Our responsibility by the power of the Holy Spirit is to not take the bait and become entangled, thus we can nullify the weapon being used against us. Our role is to go on the offensive. If Satan fires the weapon against us to see if it will take, we don't get on the defensive, we come after him with our patriot missile, We refute it. 'Satan you are liar, that's not me anymore'. After a while he realizes the weapon that he uses to work against us no longer works.

Confuse the Enemy
Our Strategy
Satan cannot read our mine. We can take advantage of that. Temptation may come our way and we may be tempted. But we make sure our behavior does not reflect what's in our thoughts. We do not respond to the temptation. So even if we are tempted, Satan does not know it. If over and over again we do not respond to the temptation he assumes his weapon is not working. He throws his hands up for the moment. But just like he did with Jesus he will look for another opportune time, try a different weapon, or just focus on the easy to manipulate Christians.
Let's make the decision to declare the promise of Isaiah 54:17 that no weapon will prosper against us and when darts are thrown at us we do not respond. Instead we take the offensive against Satan.
We are More Than Conquerors
All of us fall short. All of us have some things in our life that can be a struggle. We will lose some battles, but we make sure we fall forward closer to Jesus, We continually make the choice to live on the offensive instead of the defensive. Amazing testimonies come out of living our lives this way. We become more than conquerors and able to give hope to our fellow brothers and sisters.
in all these things we are more than conquerors through him who loved us.

Romans 8:37