Rivers of Revival-Prepare for Revival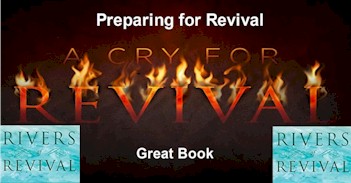 Rivers of Revival-How to Prepare for a Fresh Encounter with God-Book Review
The book Rivers of Revival was written by Neil T. Anderson (Author of The Bondage Breaker, Steps to Freedom in Christ, and Victory over the Darkness) and Elmer L. Towns (Co-Founder with Jerry Falwell of Liberty University).
The title of the book certainly drew me into wanting to read it. But what really drew me into reading the book was whom authored Rivers of Revival. It seemed to be an unlikely union. The first thing I thought was "This is most likely going to be a very balanced book on revival or was going to be a book that downplays revival." Neil T. Anderson is known for his 'Charismatic/Pentecostal leaning' in regard to spiritual warfare and Elmer Towns who certainly comes from a very Fundamental Baptist background. I say Charismatic/Pentecostal leaning regarding Neil T. Anderson in the sense that many Fundamental Baptist shy from the concept of spiritual warfare, the power of worship, proclaiming the promises of God, sensing the presence of God, etc. Bottom line Neil T. Anderson's books are not normally something that Baptists would be reading. Yet Elmer L. Towns (certainly falls under the Fundamental Baptist category) unites with Neil T. Anderson to write a book on revival.
Balanced Approach Regarding Revival
Like I assumed, the authors take a very balanced approach regarding the topic of spiritual revival. They share their own experiences and speak of previous revivals, backing up all that they say with Scripture. They share various principles in Scripture that if applied certainly prepares the way for revival to occur. Anyone who desires a fresh encounter with God and desires to see revival take place in their community will find this book very insightful and helpful. In reality, every Christian should read this book, because if they do, they will find themselves wanting to have a move of God in their life and in the lives of others.
Endorsements
The book is endorsed by Bill Bright, Dick Eastman, D. James Kennedy, John C. Maxwell, and C. Peter Wagner.
Insights from Others
The co-authors not only share their insights, but the insights of other Christian leaders: R.A. Torrey, Billy Graham, Jack Hayford, Henry Blackaby, Ed Silvosa, C. Peter Wagner, George Otis Jr., and John Dawson.
Book Sections
The book has two main sections and a large Appendix: Micro-Revival, Revival with Individuals and Macro-Revival, Revival Among Groups. The appendix includes Steps to Freedom in Christ, How to Establish Freedom Ministry in Your Church, The History of Revival, and Glossary of Terms Used to Describe Revival.
Why I Recommend the Book
A. The co-authors take a very balanced approach in regard to the topic of revival.
B. They address attitudes that can hinder revival.
C. They make it very clear that fulfilling the Great Commission is the obligation of ALL Christians.
D. They share nine strategies for revival. These strategies may or may not bring revival to a community but will certainly bring revival in your personal life. Blessing the Unsaved, Experiencing God, Liberating Your Church from Spiritual Bondage, Repentance, Worship, The Holy Spirit, Evangelism, Restoration. and Spiritual Warfare.
E. They make the case that there is a big difference between true revival and evangelistic meetings. Too many pastors are calling evangelistic meetings revival meetings. True revival is more than winning people to Christ, it is the transformation of a church, a community, a nation.
This book is directed towards church leaders but if you want to see a transformation in your life, in your family, in your church, in your community, in your nation, this book is a great read. Reading it may not bring revival, but it certainly will prepare you to be a vessel used for revival. If you apply the principles found in the book you certainly will experience transformation in your life.
Links to Book
Paperback
Audio Book