Arrived at LCO Reservation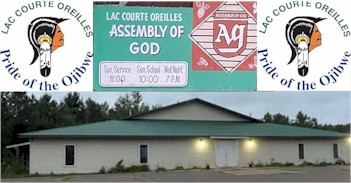 Carmi and I left Greers Ferry, AR at 7:30am and arrived at Des Moines, Iowa around 7pm. We got to bed around 9:30pm and got up at 3:30am to drive to St Paul, MN to pick up our friend Ed at the Amtrak station at 8:30am. From there we drove to the LCO Assembly of God Church in Couderay, WI.
It was exciting for Carmi and I to met up again with Pastor Debbie. I think she was as excited to see us. All of us went to lunch/dinner and talked about ministry plans. Tonight there is going to be a recovery church service. Ed and I will share for a few minutes. Before and afterwards our goal is to get to know the people coming and see who would like some one-on-one counseling and ministry while we are on the reservation.
I will be preaching on Sunday morning, My sermon is titled "The Transforming Power of the Love of Christ". I will be talking about too many Christians are trying to be ambassadors for Christ when they have not had a true encounter with the love of Christ. The love of Christ when truly experienced transform us. It constrains/controls/compels us to live honorably for Jesus. (Many Christians on the reservation, and within American churches, speak of Jesus but are not transformed by Jesus. The other day my devotional was from Philippians 2:15, we should shine as lights in the world.)
After the church service we will provide a light lunch and then do a training on sharing your faith, titled "Sharing Your Testimony in Two Minutes". As I was sharing this Debbie mentioned that there are those in the church that are wanting more training on sharing their faith, great confirmation.
Today I must spend four hours on a website I am suppose to already have finished, going to work on my sermon, spend some devoted time to worship and prayer, and then meet with a few people before tonight's service.
Prayer
Please pray for some divine connections tonight. As much as possible we want to focus on one-on-one discipleship. Also pray for Ed. This will be the first time he will be giving a public testimony.