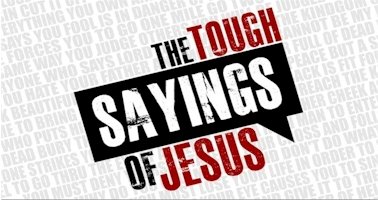 Tough Sayings of Jesus
Jesus is merciful, gracious, kind, gentle, loving, and so much more. He is also very direct, speaks some very tough words to hear, and manifests righteous anger. But even during these moments it is out of love. It is to make it clear to us that we need Him as our Lord and Savior to avoid His righteous judgment.
Here are just some of the tough sayings of Jesus. If they challenge you, if they help you realize that you are a broken, fallen human being that needs a Savior, how about learning how you can get right with God? How to Have Eternal Life.
Just some of Jesus' Tough Sayings
Just some of Jesus' Tough Sayings
Repent
John the Baptist prepares the way for Jesus with the message of repentance. There was no sloppy agape, greasy grace message. John is arrested and Jesus continues the message:
Matthew 4:17 From that time Jesus began to preach and say, "Repent, for the kingdom of heaven is at hand."
If you have not repented from your sins, today is the day to get right with God.
Judgment
Multitudes of times Jesus warns that the judgment of God is coming. If we look at the world around us we should be able to clearly see God Almighty has every right to judge this world, to judge nations, to judge America, to judge His people, yes to even bring discipline upon unrepentant followers of Christ. If you are backslidden, get right with God Almighty.
Confronting Sinners
Jesus had no problem to confront unrepentant sinners, especially those who come across as being religious and better than others. He spoke some very harsh words. Most of us would say they were mean words. He called people snakes/vipers, fools, wicked, perverse, evil, cursed. Let's get honest. Is that how others would see you? Call out to Jesus to deliver you from your wicked ways.
Hell
Many pastors have a hard time speaking about hell but Jesus was not shy on the subject of hell. The destiny for those who do not repent and call out to Jesus for salvation have hell as their destiny when they die. Is that you? It does not have to be you. Today can be your day of salvation. You can be saved from hell. You can become a born again follower of Jesus Christ. You can be transformed. Receive Jesus Christ as your Lord & Savior.
#PreacherRichD